Bank branches may seem outdated in today's world where everything is interconnected. Yet, they serve an important purpose for banks. They are the face of the bank to the customer, the place where service is provided and they remind customers and others that a bank is not only a digital bank but has a physical presence, which in psychological terms portrays trust. Arion Bank has adopted a new branch strategy that, in combination with its investment in digital services, aims at providing even better services to its customers.
The history of the bank branch is similar throughout the Western world. The number of branches is declining. Increased digital service provision and focus on lower costs are the primary reasons. At the same time, customers are provided with better service since the majority of customers' daily banking needs are now available to them at any hour of the day, not only during typical banking hours.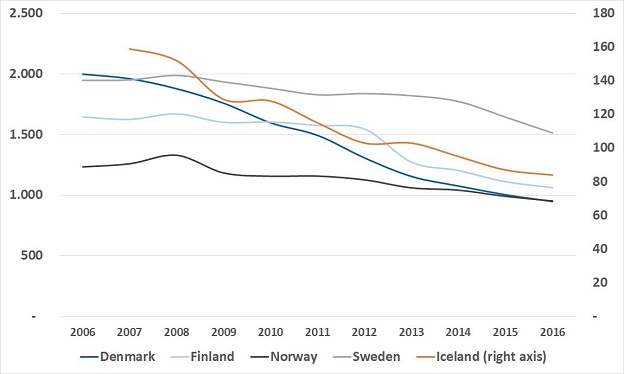 Number of bank branches in the Nordic countries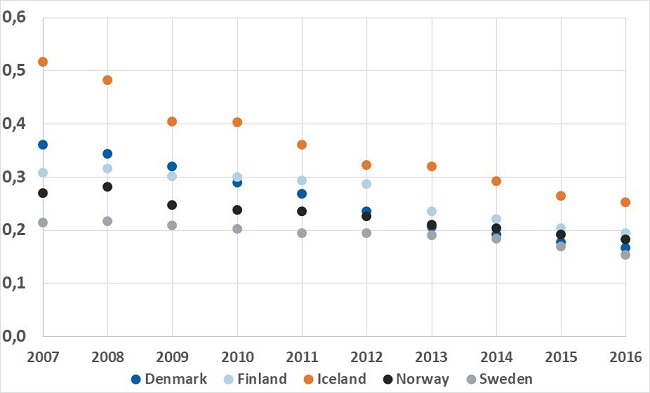 Number of bank branches pr. 1,000 inhabitants
The pattern is the same in all of the Nordic countries, although geographical differences explain the diversity in numbers. The Nordic countries have been leading in the use of digital payments (debit and credit cards) which is reflected in less use of cash in all the Nordic countries. Iceland is no exception.
Cash circulation as % of GDP in selected countries in 2015
In parallel, Nordic banks have been quick jumping on the digital wagon not only in terms of payments, but in digital banking services in general. Nordic retail and corporate customers have been used to online banking and mobile banking for several years now and the pace of new services has picked up fast in the past 3-5 years. This fact is presented in a wide research performed by FinAlta. Nordic customers are more active digital banking users than in most countries. Arion Bank's customer base is even more active than the Nordic average bank.
The pattern is upwards around the globe. Customers are highly receptive to enhanced digital banking services. Yet, they still seem to prefer to use all channels available to them. The bank branch is far from being outdated or obsolete.
As seen in the table and picture above, Arion Bank's customers are digitally more active than customers of Digital Leaders in the world according to FinAlta definitions. Although Arion is proud of this fact, it does not tell the whole story. Arion's product or feature availability in online/mobile offering is somewhat less diverse compared to the Digital Leaders'ii. At the same time, it shows how much Arion customers use the available digital offering. For Arion, there is still room for improvement, i.e. in guiding customers further into using the digital services. One example would be to reduce the use of branches for simple transactions such as money transfers and payments, see picture below.
% of money transfers and payments made in branch. Source: FinAlta
Arion has invested heavily in digital banking and financial solutions in recent years which has made a huge impact on how customers behave in regards to digital banking. See other White Papers in the Further reading section below. Easy and intuitive solutions designed in an end-to-end process have improved customers' satisfaction, made Arion's service more productive and also changed the needs for branches. Arion will continue to progress digitally, and in combination with a coherent digital and branch strategy, the Bank aims at being at the same level as FinAlta's Digital Leaders.
Looking at the branch network of the Icelandic banks, i.e. not only of Arion, we see that there are still more branches per inhabitant than in the Nordics. This is due to the fact that habitation in Iceland is more spread out and the size of the country. Taking the (small) population into the equation along with Arion's customer base, the following comparison is understandable.
In terms of customer activity, Arion's branches are more active in promoting and activating sales and services although it does it not as effectively per FTE (Full Time Employee) equivalent. Now, the question remains how to respond to the facts presented above, i.e. highly digitally active customer base that still views the branch network as an important factor to provide daily banking services.
The importance of a branch network
Despite digital advances in recent years, there are customers who regard personal service in the branches highly. These customers cannot and should not be neglected, but over time any bank will migrate such customers towards easier and more convenient self-service methods via desktop or mobile.
Branches also serve the purpose of being a window or entry level to a bank for consumers and therefore play an important part in marketing and image building. In its physical location and through design, a branch is also a reminder the bank exists. Physical locations build trust amongst consumers. A bank might have an excellent digital offering and promote good user experience. However, having a physical location and being visible in a city or village has the mere psychological effect on people that the bank is tangible and real. This is evident in people's opinion on whom they mostly trust to safeguard their money. Banks are their first choice.
Customer ranking for trustworthiness, banks and technology firms. Source: Bain & Co. - Evolving the Customer Experience in Banking, 2017.
And branches have an important role in maintaining the trust. But every branch need not be like all others. They can and probably should have different purposes based on exact location, diversity of customer base and availability of services. A bank branch in an airport serves different needs to one in a village of 10,000 people or in the center of a large city.
What branch strategy to follow?
As much as a service company needs to adapt to ever-changing technological environment, the same company needs be aware of customer needs that constantly change. Banking in general, globally, will most likely undergo major changes in the next few years. Competition from FinTech or technology companies and new regulations put pressure on banks to adapt. The business model of banks is constantly under revision and all banks are focusing on leaner organizations and reviewing their cost structure in terms of technology and human capital. In parallel, the service level should at least be as good as or preferably better than before. Arion customers' touchpoints with the bank are 96% digital.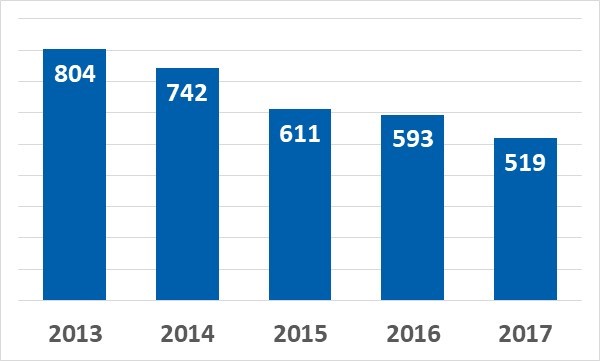 Customer visits to Arion's branches ('000s)