Statistics Iceland (Statice) published GDP growth figures for Q2 this morning. More than just analysts waited with bated breath for the figures, as this is the first quarter without WOW air. Beforehand, in all likelihood, most forecasts assumed GDP to contract in Q2 YoY, as tourist arrivals dropped by 19.2% over the quarter. Because of that, the preliminary figures probably raised many people's eyebrows: GDP grew by 1.4% in Q2!
That being said, even though the bottom line, GDP itself, doesn't show any signs of a recession, the subcomponents of GDP show in black and white how the economy is cooling down. For example, national expenditure (total consumption and investment) decreased by 1% YoY and exports contracted by 6.9%. The only reason behind the GDP growth is a significant drop in imports, or 12.4% YoY. Because imports decreased far more than exports, the positive contribution of foreign trade was enough to generate GDP growth.
It's also noteworthy that Statice has revised the GDP figures for Q1, now showing 0.9% GDP contraction instead of 1.7% growth. Because of that, we do not see any reason to change our economic outlook for the year as a whole – yet at least.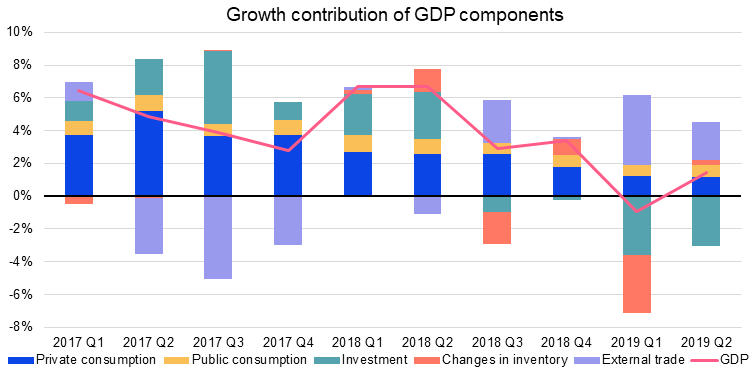 Sources: Statistics Iceland, Arion Research
Expect the worst, hope for the best
When we released our updated Economic Outlook earlier this months, we expected GDP to decline by 0.4% in Q2. However, the figures on balance of trade in services, which Statice published last Monday, blew that forecast out of the water. Imported services decreased by 16.8% YoY, meaning that something significant would have to happen to either private consumption or investment in order to get a GDP contraction.
As the graph below shows, most subcomponents developed in line with our expectations. Private consumption growth has slowed to 2.2%, the softest growth in one quarter since 2013. Exports contracted by 6.9%, a slightly smaller contraction than we expected. The difference between the export forecast and the actual figures lies in exported services, which proved more resilient than we expected, first and foremost transportation by air. However, the largest deviations from our forecast are investment and imports, both of which contracted more than we anticipated.
Sources: Statistics Iceland, Arion Research
Indication or a one-off?
In terms of imports, it was primarily imported services that contracted more than we expected, or by a total of 16.8% YoY. What caught us off guard was the decline in "Other business services", which amounted to 12 bn. ISK or 47% decrease YoY. We expected a contraction beforehand, as the lion's share of WOW air's fleet was leased, and operational lease falls under other business services, but the large drop came as a surprise. According to the CBI's chief economist, the pharmaceutical sector also plays a role, something we had suspected but weren't able to confirm. If the CBI's chief economist is right, the large drop in service imports in Q2 is more likely than not a one-off, not an indication for the second half of the year. However, if this is not a one-off case, then the year's import contraction could be sufficient to maintain economic growth.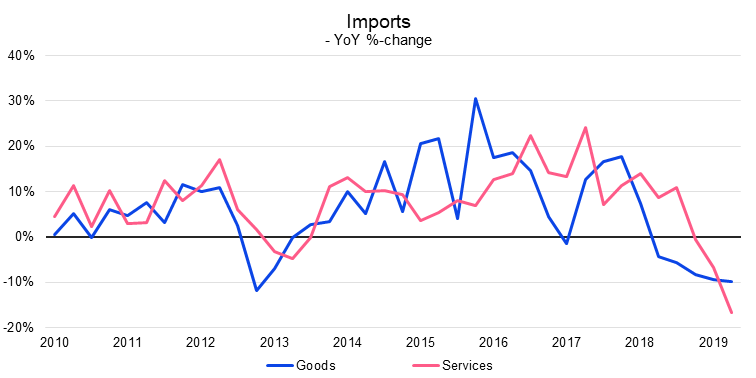 Sources: Statistics Iceland, Arion Research
Business investment contracts, Statice grapples with residential investment
Investment in Q2 developed differently than we expected. Firstly, business investment contracted by 30.3% YoY, compared to our forecast of 6% contraction. All its components declined from the year before, with regular business investment contracting for the fifth consecutive quarter, this time around by 21%. This slowdown in business investment is a cause for concern as it could stall rebound in business activity going forward. Secondly, public investment dropped more than we expected. Thirdly, residential investment increased by a staggering 41% YoY, compared to our forecast of 8% increase. Statice´s revision of Q1 residential investment figures is here mostly to blame as investment in Q1 was lowered from 58.4% growth YoY down to 22.2% growth. In today´s announcement Statice states that Q1 results on residential housing were "based on data containing information about residential investments that extended beyond the defined reference period of quarterly national accounts." This means that residential investment for 1H increased by 31.2% which is line with our forecast.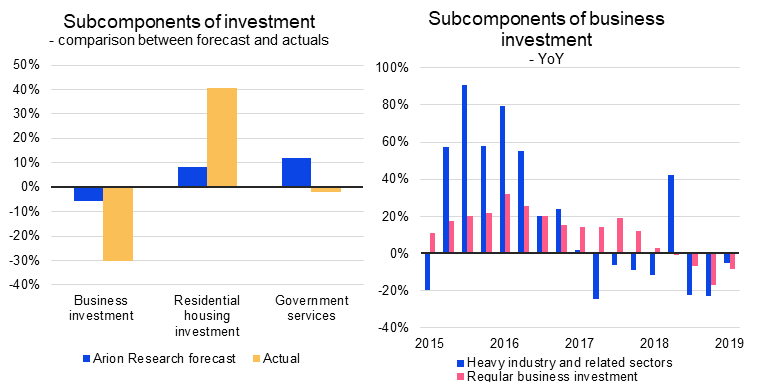 Sources: Statistics Iceland, Arion Research
Q1 revised: From growth to contraction
Statice´s revision of Q1 casts a large shadow on the otherwise strong Q2 figures. Statice´s revision shows that the economy, not grew by 1.7%, as previous results had shown, but contracted by 0.9% in Q1. The previously mentioned revision of residential housing figures bear the brunt of the unfortunate drop in GDP.
This revision of data means that GDP growth in 1H 2019 was 0.3%, or slightly above our forecast of 0.1% growth. Additionally, revision of the 2018 GDP figures show 4.8% growth in 2018, compared to previous official data of 4.6% economic growth.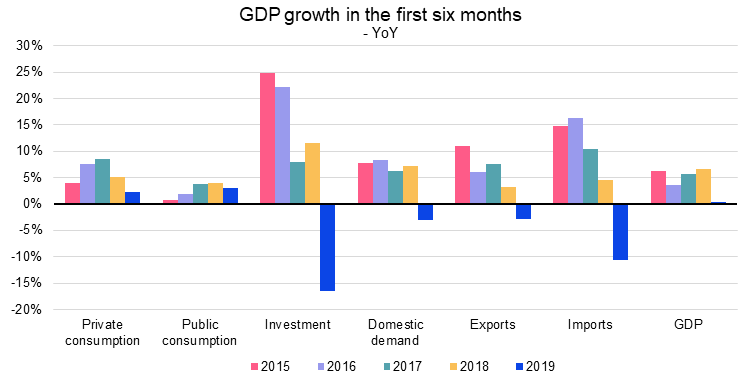 Sources: Statistics Iceland, Arion Research
The Economic Outlook holds – for now!
If we add our forecast for the second half of the year to the revised figures for 2018 and 1H 2019, we get a 0.9% economic contraction in 2019. In other words, the economic outlook doesn't change (last year's stronger GDP growth offsets stronger growth in 1H than anticipated). However, whether this forecast will materialize or not largely depends on imports and whether the contraction in Q2 was an exception or what is to come. If it's the latter, economic contraction will probably be much closer to zero than the current forecast assumes.
In its Monetary Bulletin published on Wednesday, the Central Bank´s forecasts close to 1% contraction of GDP in Q2. Today´s figures from Statice indicate that there was considerably more steam in the economy in Q2. Still, by including the revised Q1 data in CBI´s forecast, we believe that CBI´s forecast shows almost flat YoY growth in 2019. This is highly speculative on our behalf as CBI does not offer a quarterly break down of its GDP forecast. Still, it is our view that new data on Q2 growth and a revision of national accounts for Q1 will not significantly alter the view the CBI´s Monetary Policy Committee has on the way the economy is developing – and will, as we do, view the strong headline GDP growth in Q2 as a bit of fake news.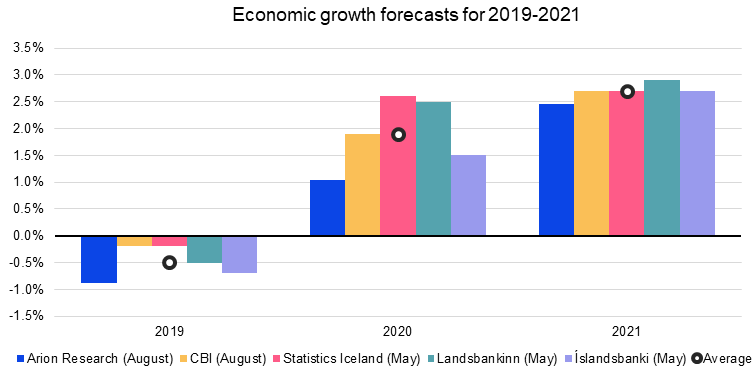 Sources: Analysts' forecasts