This afternoon Statistics Iceland (Statice) published a revision of Q2 national accounts, raising GDP growth from 1.4% in the quarter to a whopping 2.7%! According to Statice capital formation was underestimated by 9.1 bn.ISK, at current prices. This takes public investment from 2% contraction up to 17% growth YoY, and investment in ships and aircrafts up from 84% contraction to 57% contraction YoY. According to the revised figures national expenditure increased by 0.2% in Q2.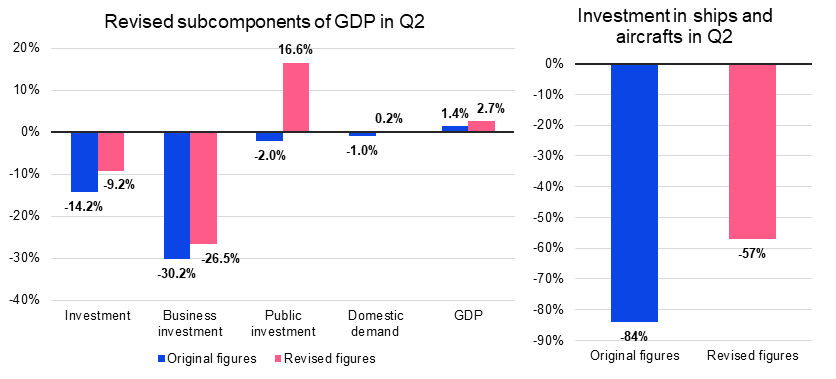 Sources: Statice, Arion Research
Unfortunately this is not the first time, and not even the second time in a short period, Statice corrects sizeable errors in its publication of national accounts. On Friday, as initial national accounts for Q2 were published, Statice corrected its Q1 GDP figures, which now show economic contraction by 0.9% instead of 1.7% growth as reported in June. That time Statice got wrong figures on residential investment.
A slight revision of preliminary figures is understandable and happens frequently in the world of national accounts but such large frequent errors are uncomfortable, if not embarrassing.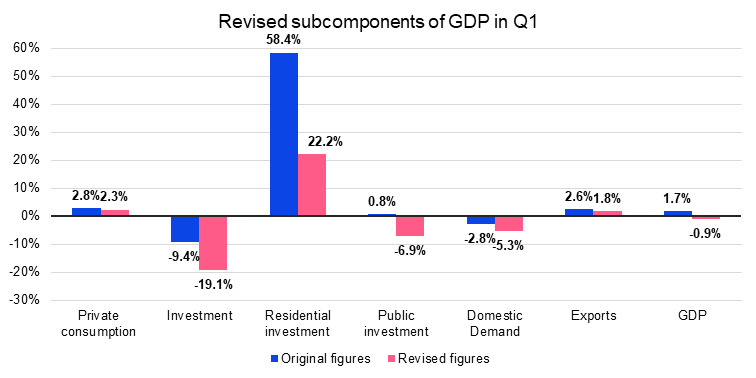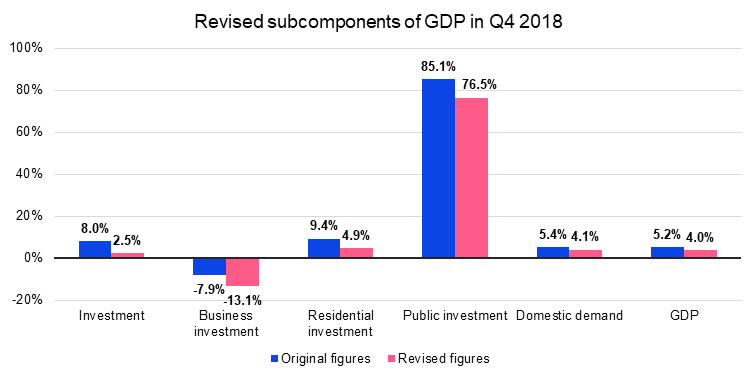 Sources: Statice, Arion Research
Based on Statice´s revised figures, GDP growth in 1H was 0.9%, exceeding by some margin our forecast of 0.1% contraction and the Central Bank´s forecast. Assuming that the Icelandic economy will in 2H 2019 grow in line with our forecast a GDP contraction of 0.6% in 2019 is to be expected, compared to our initial forecast of 0.9% contraction. As for the Central Bank´s forecast, we might see revised GDP figures for Q2 push that up from a contraction of 0.2% to economic growth for the year.
In spite of that, we don´t think that the Central Bank´s Monetary Policy Committee will be shaken by the revised national accounts figures. The figures still show a sizeable contraction in both exports and imports, a drop in business investment and growth in private consumption slowing down. Moreover, the MPC may choose to put less importance on Statice´s national accounts figures given how much Statice seems to be grappling with getting the numbers right.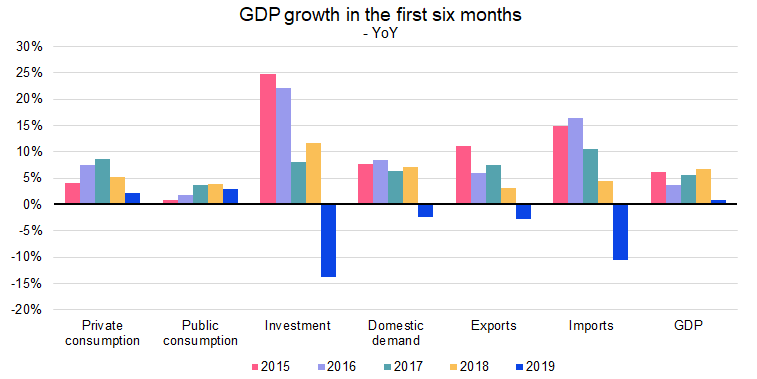 Sources: Statice, Arion Research